If your business uses a lot of technology, then perhaps a raised access flooring system is the perfect choice to invest in. The concept of a raised floor has been around since the 1970s, and in recent years, more and more tech-heavy companies are making the switch.
Why use cable management flooring?
A raised access floor is made up of panels that are supported by pedestals, creating an area of space below the floor to store servers, wires and more. Here are five reasons this system could be right for you: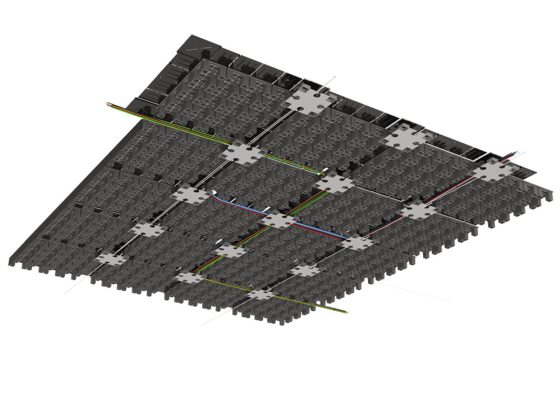 1. Organise and Hide Wires Under the Floor
Although an essential element of modern day offices the huge number of wires that connect all of your technology are not attractive. Raised flooring systems provide space beneath the floor surface to run all of the wires, cords and pipes.
Keep them orderly under the floor and your space will look clean and organized at all times. The aesthetic appearance of any office space with a large tech volume will be instantly upped when the wires disappear.
2. Endless Choice of Flooring Design
Compatible with a large variety of flooring surface coverings you can easily achieve the look you're going for. Some of the traditional raised flooring systems come with HPL adhered to the surface of each panel. With Cabloor raised flooring system you have the choice of floor covering. We recommend modular carpet tiles for the best acoustics and most productive office environment; PVC tiles are perfect for commercial spaces such as shopping centres or hospitals.
With a huge variety of colours and finishes, there's always an option available to suit everyone's needs and aesthetic preference. There is no need to sacrifice style or appearance in exchange for this convenient floor.
3. It Provides Easy Access for Maintenance
The majority of modern businesses are heavily reliant on a working IT infrastructure, The grid trench layout of Cabloor access flooring system helps keep cables organised which speeds up maintenance in case of any technology emergencies. With access flooring you can quickly access the components beneath the floor by lifting the caps.
Wires from the server should be orderly and labelled well so that people can locate them simply and fix any problem that should arise.
4. Allows Flexible Office Layout Design
With the changing office environment post-pandemic the way that offices are used is changing. The current trend is to spend the majority of time working from home with staff coming to the office for team working. Easily adapt your office layout by quickly lifting the channels caps, re-routing the networking cables and replacing the floor without any disruption to the workplace.
With raised flooring you can easily move tables and systems around whether it is to increase social distancing or create more meeting spaces as requirements change.
5. It's Easy to Fix or Relocate
With a normal floor, if something goes wrong or a piece is damaged, it's very likely the whole thing will have to be fixed or an area will have to be ripped up and replaced, costing money and causing a disruption. With this modular system, each of the elements can be replaced easily without having to overhaul an entire space or cause a major inconvenience. If you are moving office or need to set up a temporary space such as a comms room or an exhibition the floor can easily be quickly packed away and reinstalled elsewhere.