The raised access floor is one of the modern building components designed with the aim of easy floor cable management and building installation systems. With the progress of the modern world, more advanced examples of raised floor systems are introduced from time to time. A raised access floor system can reduce the final weight of the building. In addition, the raised floor enables ongoing use of the subfloor space, and if it is necessary to change the environment layout, this work will be both possible and easy. This functional product can be used as flooring in open plan offices, the server room, control and monitoring room and many other cases.
Raised access floors have different types, uses, qualities, features and prices. Each of these factors can influence your choice. This article examines the most critical factors you need to consider when choosing the most suitable raised access floor. In addition to choosing the most suitable option, you may also save money.
What is raised access floor?
Raised access floors are foundations higher than the main floor of the building and are installed on it. In this way, the space that the access floor creates on the ground allows for managing cables, fire alarm and extinguishing systems, water pipes and other systems of the structure's facilities through the floor of the building.
The implementation of raised access floors is mainly in commercial spaces requiring the passage of mechanical or electrical installations, etc.
In addition, access floors can also be used in interior decoration in cases where it is necessary to increase the floor height level.
What are the uses of a raised floor system?
The use of raised access floor creates many advantages for us; the two most important of them are:
Cable management: Easy organisation of cables and mechanical installations under the floor, keeping the floor surface safe and wires out of sight.

Flexibility and convenience: As well as speeding up the initial installation of pipes and electrical installations, raised floors facilitate ongoing system maintenance. Cable relocation, upgrades, and maintenance can be performed without the need for demolition and construction work.
Access floors solve many problems for commercial spaces full of wires, cables, and mechanical installations. The following list presents the places where the raised access floor is commonly used:
Open plan Offices

Co-working spaces

Control room

Server room

PR rooms

Computer room

Training Classes

Data center

Industrial halls

Conference space

Museums

Exhibitions

Recording studio

Medical Center

Stations & Airports

Printing rooms and halls

Goods warehouses

Many other spaces…
Raised access floor components
This product is made by assembling different components.The most critical components of the low-profile raised floor are tiles or top panels, legs and connectors.
Access floor tile or panel
Raised floor tiles form the upper part of the surface. In other words, the new floor of our environment is made by placing tiles (or panels) together. In fact, the variety in types of false floors is mainly due to the variety in the material of these panels.
raised access floor legs
Low profile raised flooring foundations are an important part of this structure. Since the legs are responsible for supporting the surface and transferring pressure, they must have appropriate material and strength. The Cabloor polymer raised access floor is made of compressed plastic with high resistance. Each Cabloor uni panel has 64 legs, which gives optimal stability and load transmission; in comparison to traditional raised floors which have 4 legs linked by stringers.
The figure below shows the exploded view of the Cabloor polymer access floor with all components and details.

Types of raised access floors
Access floors are divided into different types, each of which is used depending on the conditions of the environment (humidity level, load bearing capacity, type of passing cables, etc.).
Types of access floors can be divided from the point of view of dimensions, height adjustment and material.
Types of raised floors based on dimensions
Raised floor tiles are generally offered in 2 standard sizes:
60 x 60 cm

22.5 x 22.5 cm
Sometimes, some panels and components may be cut during the installation and implementation of the raised floor.
Types of raised floors based on height
Raised floors are divided into two types in terms of height:
Fixed height

Variable height (these are usually 3 to 5 cm height adjustable)
The variable type usually requires periodic adjustment.
Types of raised floors based on material
Raised floors can be found in different models and with different types of materials in the market. The most common of them are:
Aluminium Raised Access Floor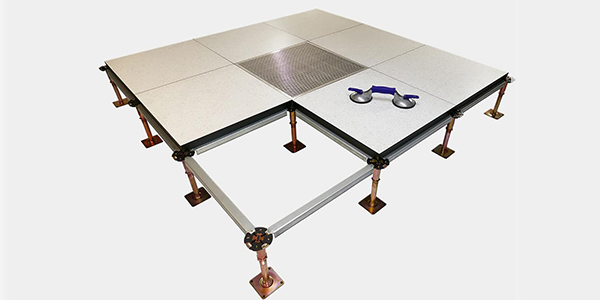 Polymer Raised Access Floor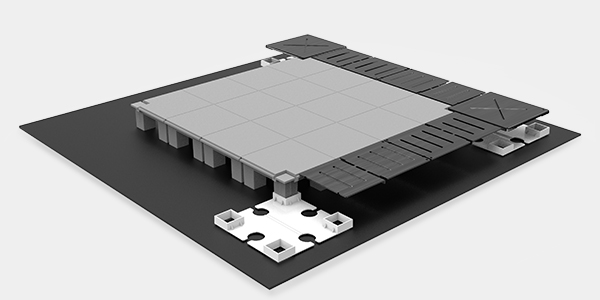 Steel Raised Access Floor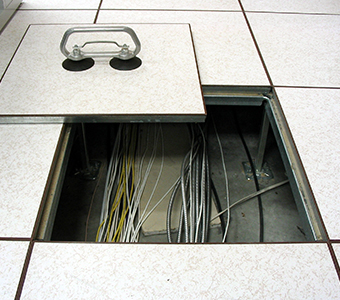 Ceramic Raised Access Floor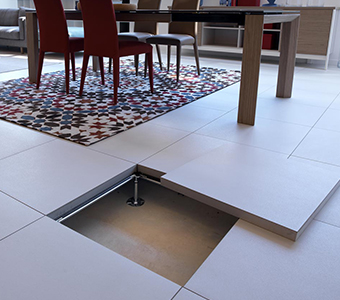 Glass Raised Access Floor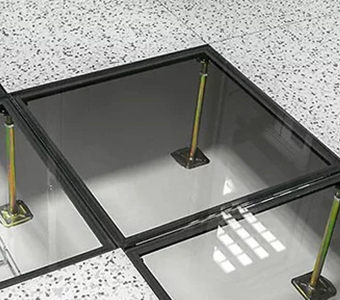 Wooden Raised Access Floor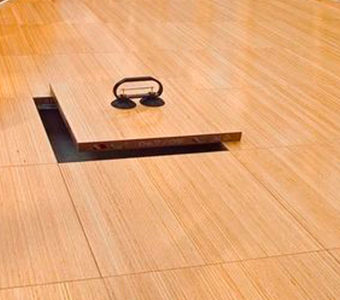 Stone Raised Access Floor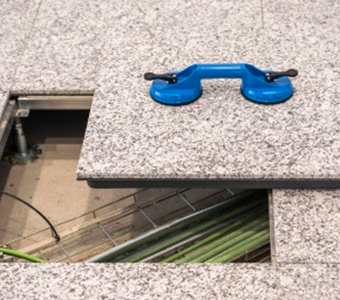 The most popular and widely used types of raised floors are steel, aluminum and polymer. Each of these has its pros and cons. Polymer raised access floors are the most modern product that has primarily covered the weaknesses of its previous generations.
Aluminum raised access floor
One of the most common floors used in the last decade was an aluminum raised floor. As its name suggests, this type of floor is made of aluminum alloy.
Advantages of aluminum false floor:
low weight

Its anti-humidity
Disadvantages of aluminum access floor:
It needs periodic re-regulating. (usually yearly)

It does not bear a large and concentrated load, and in case of an increase in dynamic load, they start to make noise when walking on them, and the need for re-alignment is felt much sooner.

Even if the HPL cover is anti-scratch, it must be replaced approximately every three years. Because washing and detergents and the movement of the office chairs after a while will tear and damage this cover.

The price of installation is high
What is a steel access floor?
Steel access floor has higher load resistance compared to aluminum raised floor, and this feature makes it useful for places with higher traffic. These types of flooring are more resistant to heat and humidity, and their price is lower than the aluminum type.
However, the heavyweight that the steel raised floors impose on the building is one of its weaknesses (about 25 kg/m2). In addition, this type of flooring has HPL or PVC coating, which will cause scratches and tears over time. For this reason, these coatings will need to be replaced periodically, if integrated on the panel this means replacing the entire panels.
What is a polymer raised floor?
In the past, the choice of access floor was usually limited to a few options, the variety of products was small, and we quickly chose and used one. But with the advancement of technology and design tools, more advanced models have been designed and produced over time. Raw materials are constantly being updated and developed, and the defects of previous products are identified and fixed one by one. The polymer raised access floor provided by Cabloor Company is one of the newest products offered to the market, which has been designed and built to eliminate the weaknesses of the previous models.
Using the Cabloor raised access floor, you can quickly create a hidden space to transfer electric cables, network, telephone and any other electrical and mechanical installations.
Resistance of polymer access floor against pressure
Cabloor flooring is made of polypropylene material (made by injection molding) and through a complex process. In addition, each Cabloor's unipanel has 64 legs that transfer the weight evenly to the ground. In this way, its resistance to pressure increases, there is no slack, and they do not need to be readjusted or refitted.
This floor can bear the weight of 3000 kg per square meter, which is very suitable for places with heavy equipment and servers.
Moisture resistance
As we mentioned earlier, using steel access floors in humid areas is not recommended because the steel access floor may lose its quality in the long term in humid areas.
Polymer access floors are a much more suitable option to choose in such a situation.
Advantages of Cabloor polymer access floor
In addition to the crucial things that we talked about, the cabloor polymer raised access floor also creates other advantages that we will mention below:
Simplicity is one of the main factors in Cabloor's design, distinguishing it from other similar products. The unique design, creativity and intelligence in the design of the parts of this product make it easy to install and use.

Easy and quick installation without causing damage to the structure's floor and saving human resources and installation time is another advantage of the Cabloor raised access floor. It can be said with confidence that the installation time of Cabloor flooring is half of the installation time of the samples available in the market. It is possible to install 70 to 90 square meters per day for each professional installer.

Reusability: All main components (except sound insulation sheets) can be reused if moved, and it is easy to carry when moving. 

Making changes and easy access: To install, repair and even change the direction of the cables after installation, just remove the cable outlet cover and change the direction of the cables. Then replace the caps.

The polymer access floor adds much less weight to the building (approx. 14.5 kg/m2).

High resistance to heavy static loads and dynamic forces

Sound insulation: Sound insulation layer is considered among the constituent components of the polymer raised access floor.

No damage to the floor of the building (ceramic, etc.) due to no need to use bolts and nuts for installation.

Ability to cover with carpet or PVC tiles and create modern and beautiful interior decoration. Surface tiles are independent to the floating floor and hence can be changed without requiring replacement of the entire raised floor system.
raised access floor installation
How to implement and install the raised access floor in each type can be different. The implementation of 60×60 access floors is generally different from 22.5×22.5 ones because their components differ.
Make a brief specification for your project before purchasing to benefit from the services better. By sending the map file of your desired space, get help from experts to estimate the initial costs.
Purchase and price of raised access floor
In order to calculate and estimate the price of the access floor you need, the following factors should be considered:
Type, material, quality and brand

Required meterage

The cost of transport

The cost of installation
The desired cost will be obtained if all the above items are estimated and calculated.
You must be very careful in choosing the right type to avoid getting into trouble in the future.
When choosing and buying a raised access floor, you should think about the answers to the following questions:
What is the type of activity of your intended environment?
Production control room

Server room

Electrical room

Shop and restaurant

Office environment

Exhibition temporary flooring

Hotel and commercial building environment
What is the amount of pressure on the floor system?
100 to 1000 kg
One ton to 4 tons
More than 4 tons
What is the required height for the space under the floor?
5 to 20 cm
20 to 50 cm
50 to 80 cm
80 to 120 cm
More than 120 cm
What type of traffic is carried out on the floor surface?
Continuous and high traffic of personnel
Table and chairs
Continuous movement of equipment
Cart and wheelbarrow movement
What are the climate characteristics of your area?
dry
dry and cold
moist
mild
For more information, you can view the technical specifications of Cabloor polymeric raised access floor.
Cabloor Technical and Engineering Group has highly specialist and technical experience in raised access floor production and implementation. Cabloor confidently guarantees the quality of this product and has taken all necessary measures in the field of after-sales service.
We suggest that to prevent the waste of your organization's funds and to make an informed choice according to your needs, contact our consultants through the direct contact number 02032896265. Get free technical and design advice and inquire about the price of raised access floor products.